/*******************CON ESTO SE METE EL FORMULARIO DE BUSQUEDA php tpl_searchform() ********************/ ?>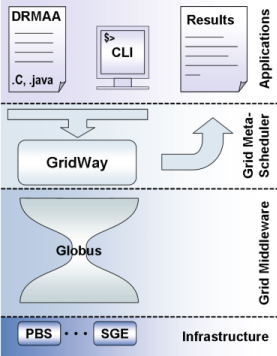 The GridWay Metascheduler enables large-scale, reliable and efficient sharing of computing resources: clusters, supercomputers, stand-alone servers… It supports different LRMS types within a single organization or scattered across several administrative domains. GridWay provides a single point of access to all resources in an organization, from in-house systems to Grid infrastructures and Cloud providers. GridWay supports most of existing Grid middlewares, can be used on main production Grid infrastructures and can access to Cloud resources.
Check out the release notes and documentation for more info.
News